Saturday was my day to run around New York City. I met the sister and we did a very adult form of partying...french food in a terrific little bistro called
Buvette
...
I had the
mussels
, which were cooked in the richest butter and cream laden sauce. Oh so very good for dipping with some exquisitely baked french bread. Delightfully paired with a lovely and fruity
pouilly-fume
.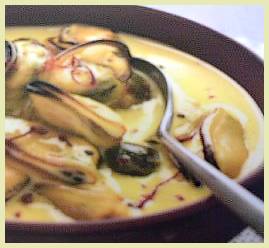 Sister had the
brondade
, a cod, potato, garlic concoction that just bespeaks the words french country.
If you are dieting or strictly adhere to a low fat and no carb menu this is not the place for you...
But if you are looking for some decadent joy and still want to be respectable in the morning (albeit weigh a few pounds more) this is the place for you.
Qi en Pace,
Elise