Best dressed belongs to Naomi Watts in Armani Prive....
Close runner-up Halle Berry
And Nicole Kidman
Loved Jennifer Aniston in this little red number
Oscar winner Ben Afleck's wife, aka the very talented Jennifer Garner, looked great in this purple gown
Kerry Washington looked lovely in this red sparkler
And of course Charlize Theron would look amazing in anything
As far as the rest of the actresses were concerned, they did look lovely except I am not partial to this pale look that many wore last night. Whether it was Amy Adams, Jessica Chastain or even Oscar winner Jennifer Lawrence, the dresses faded into the background. You could see the wonderful craftsmanship in each and every dress but rather than making these ladies stand out (OK winning did do something for JL) they seemed to just fade into the background. Red carpet needs a pop and not simply from a pair of red lips ala JC.
The cut and beadwork on this dress looks exquisite. Yes its old Hollywood glamour but loses something. There is no pizzazz.
This looked a little too much like a wedding gown and too old for her. She's 24. She needed something more youthful and exciting.
Do love the feathered skirt.
And sorry but Anne Hathaway known for her fashion sense wore a pink hotmess. Her performance dress during the Les Mis presentation was great, but not her red carpet frock.
Seriously bad and the side-boob not good. But everyone's allowed a miss now and again. Lets blame it on newlywed brain.










Don't get me started on Melissa McCarthy's sack. What was she thinking? Big women do not have to dress like that just look at Olivia Spencer who was very elegant.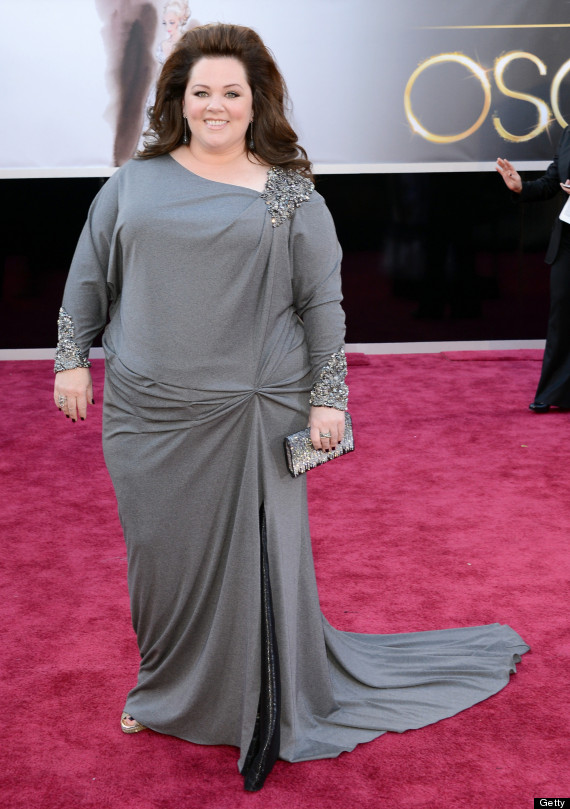 So as you can tell I am very partial to color and the metallic look is wonderful. When you dress to the nines, you need to make a statement not disappear into the red carpet.
Who do you think wore the best dress and the worst?
Qi en Pace,
Elise